Digital health products are unfolding a real revolution right before our eyes. Never before have medical professionals, technicians, and entrepreneurs come together to build products that will simplify the entire healthcare delivery process.
Digital health products – exciting times for tech start-ups?
The fee-for-service (FFS) model has been replaced with the value-based model of treatment, thanks to the Affordable Care Act. This change in the treatment model explains the immense inflow of investments in a number of digital healthcare companies. As of 2017, close to $10 billion has been invested in over 500 of these companies. But does this mean that tech start-ups can truly expect a smooth road ahead? Or is this just the latest bubble in the healthcare industry that will eventually burst?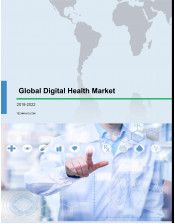 Get your FREE sample now!
According to our industry experts, the digitalization of healthcare products is more than just a trend. Here are the top 10 digital health products transforming the healthcare space.
Read: 7 Ways in Which Digital is Transforming the Healthcare Industry 
Top 10 digital health products redefining healthcare
1. MobileHelp Smart
A product of MobileHelp and Samsung, MobileHelp Smart combines Samsung's Gear S3 smartwatches with MobileHelp's customer facing interface that links people in need of emergency services.
The emergency response functionality and digital health capabilities of this groundbreaking product include:
helping athletes stay safe during their practice sessions
enabling senior citizens to live an independent life
empowering the workers to work to their full potential.
Company Profile
MobileHelp is a leader in mobile Personal Emergency Response Systems (mPERS) and healthcare technology. The company offers proactive health management services in the form of activity tracking, medication reminders, and a telehealth platform.
Other products
MobileHelp Solo, MobileHelp Duo, MobileHelp Classic.
Read: Future of Health Care Services is Definitely Connected
2. Dreem
Dreem, a sleeping product from Rythm, provides four sound-based sleep induction features to enhance the overall quality of sleep. Light and autonomous, the sleeping band employs sensor data in real time and acts at precise moments to optimize sleep in a customized manner.
Company Profile
Rhythm – the manufacturers of Dreem – is a neurotechnology start-up that specializes in consumer electronic, health wearables, and sleep monitoring products. Dreem, its first product, is packaged with complex technology ranging from biofeedback to neuromodulation, which helps induce better sleep for users.
3. HeartSignature
HeartSignature is a wireless, contactless, remote vital sign monitoring device that can easily collect and process heart rate, respiration rate, and heart rate variability data. Built on the capabilities of highly advanced intelligent IoT sensor platforms and IoT partitioning architecture, HeartSignature identifies patients based upon their unique vital sign patterns.
Company Profile
Olea Sensor Networks is a well-known intelligent sensor and analytics software company. Its products are widely applied in IoT applications like connected cars, smart home, and identity access management. Apart from HeartSignature, Olea's other products include OleaVision, DrowseAlert, and RespiroTrack.
4. E-vone Smart Shoes
The French company E-vone has created the first connected shoes that are specifically designed for senior citizens, travelers, and workers. Equipped with gyroscope, GPS, accelerometer, and pressure systems, these smart shoes automatically send an alarm message to the entourage (family, friends, neighbors, emergency services) with ultra-precise geo-positioning.
Read: Top-3 Market Trends in the Veterans Healthcare Scene
Company Profile
E-vone manufactures 1 million pairs of shoes per year. In 2017, the company won the Silver Eco Innovation Award for launching the world's first smart shoe that is specifically designed for the elderly.
5. Airthings Wave Plus
An indoor air quality (IAQ) monitor, Airthings Wave Plus is a battery-operated smart device. The monitor works on the basic premise that measurement of IAQ is the most important step to prevent illness and increase productivity. An easy to use stand-alone unit, Wave Plus is designed to be used in populated spaces and detect pollutants like radon, carbon dioxide, and volatile organic compounds.
Company Profile
The Norway-based tech company Airthings is a leading manufacturer of products that can easily identify radon levels in indoor air. Established in 2008, the company is committed to providing people with control of their air quality through simple, affordable, and accurate solutions.
6. Somnox Sleep Robot
The peanut-shaped sleeping robot is a breakthrough in the world of digital healthcare. The sleep robot from Somnox is more like a pillow that is equipped with audio and carbon dioxide sensor, as well as an accelerometer. The huggable bot provides physical sensation that subconsciously influences the breathing rhythm of the user to improve the overall quality of their sleep.
Company Profile
Somnox was started in the robotics institute of the University of Technology Delft. Specializing in soft-robotic innovation, the company's primary focus is the sleep-aid market in Europe. Its sleep robot is the first non-medicinal soft robotic to actively help you sleep.
7. MyEye 2.0
In the long list of digital healthcare products, MyEye is designed for those suffering from visual imparity. An improvement of MyEye 1, MyEye 2.0 is an artificial vision device equipped with a lightweight smart camera. This device reads text aloud, and recognizes faces, products, and money notes in real time.
Company Profile
Founded in 2010, OrCam has been one of the pioneers in employing system-on-chip and computer vision algorithm to build products for the blind and the visually-impaired. Based in Jerusalem, the company launched the first version of MyEye in 2015.
8. Smart Swimsuit
Jointly designed by Swim.com and Spire Health Tag, the smart swimsuit allows users to track, log, and analyze data from their swims. The data collected by the swimsuit can be synchronized to a phone over Bluetooth. Regarded as one of the most cost-effective ways to track swimming, the smart swimsuit has a comfortable design that does not interfere with the swimmer's feel for the water.
Company Profile
While Swim.com is the leading provider of the most advanced swim apps, Spire Health Tag is a renowned manufacturer of devices that provide continuous respiration sensing, real-time interventions, and actionable feedback.
9. Smart Water Bottle
A product by LifeFuels, the smart water bottle is the world's first drink maker that adapts to a person's day. The bottle can hold about 45 drinks with 3 fuel pods. The smart bottle communicates with FitBits and other wearables to suggest and dispense a variety of nutritional supplements into the water bottle portion. The owner can choose between dozens of different supplements, from vitamins to rehydration salts and even caffeine.
Company Profile
From winning 10 innovation awards in 2016, to making a place for itself as one of the leading digital health products companies, LifeFuels has come long way in a very short span of time. The company has changed the way consumers approach hydration and nutrition by empowering them to create personalized beverages on the go. Their line of smart devices leverages fractional dispensing technology to deliver and track functional beverages and personalized nutritional supplements.
10. Rapael
Neofect has created a game-based rehabilitation product called Rapael. The rehabilitation device is a digital version of the wooden peg board designed to improve the arms and hands movements of stroke patients. The Rapael smart board improves the rehabilitation process through its data-based evaluation program based on rehabilitation science, brain science, and clinical research.
Read: Rehabilitation robots – The medical marvel of robotic healing
Company Profile
The South Korea based company is a major manufacturer of innovative smart rehabilitation solutions to help patients with neurological and musculoskeletal injuries. The new rehab paradigm created by Neofect is not only innovative but also highly cost-effective. Apart from the smart board, the company has also developed the smart glove, NeoMano, and has designed ComCog – the first cognitive rehabilitation program in Korea.
Check out the Technavio report featured in this article :
Global Digital Health Market 2018-2022